I never really truly appreciated the fairy tale aesthetic to fashion. I always thought it was something very whimsical and fairy tale princess, but in terms of what I found fashionable and cutting edge, the whole princess dress has been done before many times. However, something about Zuhair Murad's Haute Couture collection struck me in a very good way. The entire collection was very feminine very theatrical and very princess-y. I do not think Mr. Zuhair Murad had in mind being very cutting edge or unique or different for that matter, as most of his dresses (I would say all of his dresses but I am cutting him some slack) were rehashed versions of other dresses. I saw some Armani lookalikes, some McQueen, Galliano influences. What struck me though, was not Murad's dedication to being the most unique fashion designer out there, but his determination to produce a beautiful collection. And that is exactly what he did. I have always looked at fashion as producing the next big thing. Whats new, whats next, and whats the current cutting edge look. But I have forgotten amidst this that there is also a degree of visual beauty that must also be present in the collection. You can produce a unique collection and have it not be pleasing to look at, or you can produce a collection that is undeniably beautiful but very similiar to a previous collection. What I liked about Murad's collection was that he seemed to know that his collection wasn't the most unique but he compensated for his lack of originality in the true beauty of his collection.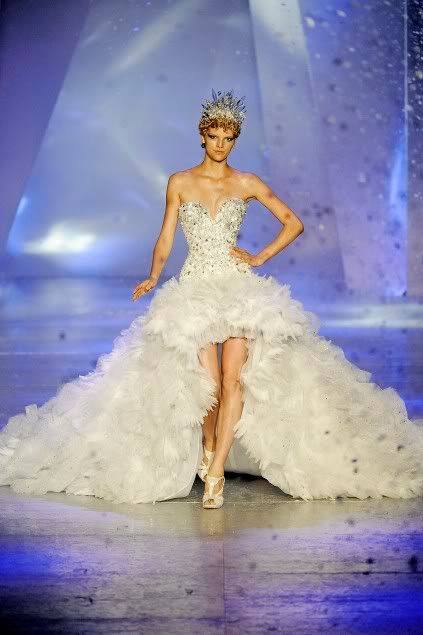 Enough about me blabbering about the collection in general, almost every one of the pieces shown in the haute couture collection was jaw droppingly beautiful. I fell in love with this ivory dress with the billowing and very heavy train. This is a kind of dress that I am so incredibly surprised to have taken a soft spot for. I am not into things so undeniably feminine. But there is something so glamourous, so feminine, so princess about this dress. It is epic in the way that the feather train is so massively large and statement making. You steal the show with a dress like this. It has something very old school glamour about it. The crystal embellishment bodice combined with the feather train. The materials used are very simple classic materials that create such a beautiful dress. I am simply in love with the way this dress moves on the runway. It commands so much attention, not only because it takes up so much space literally but because it is such a beautiful dress. Like I said earlier the dress is not the most unique but no one can deny how beautiful this dress actually is. Fit for a princess no doubt about it, and I think that is what Zuhair Murad did. He created dresses that were very princess like and catered to those individuals who wanted to feel that extra element of fairy tale when dressing up. No doubt about it any model, celebrity, woman, wearing this dress is going to feel special, and live even for a few seconds in a fairy tale world. I am just flabbergasted at how beautiful the dress is.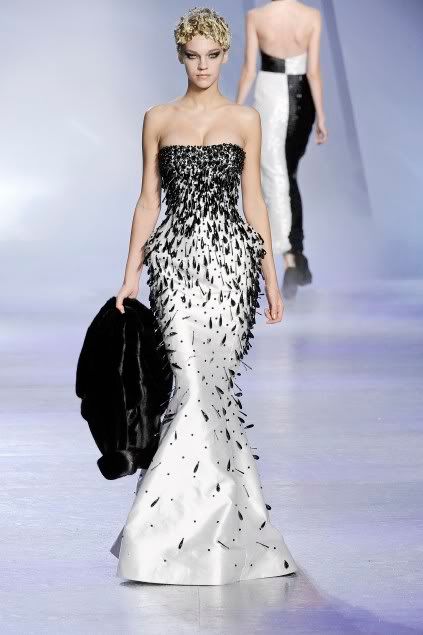 Another dress from the same collection, isn't as fairy tale like, but is equally beautiful. The print has been used before from Chanel, but I think Zuhair Murad looks and learns from other designers, he seems to have applied the print in a much better way than his Chanel counterpart. I love how the embellishments are heavily added near the bust creating a slimming effect and then spread out near the hips widening the body. It is like wearing a natural corset. If you look at the lines that creates within the dress on the body, it is something very beautiful. It creates such a dramatic hip which works well as it is combined with the embellishments and is something very beautiful. I think this dress is very much so more wearable than his other piece, which seemed to take up a lot more room. I do hope that celebrities show this collection some love, as I do hope it sells well and does well in editorials. Zuhair Murad is a wonderful designer, I am glad to see his shows, I have just learned to appreciate the beauty of gowns, regardless of how original they are. I often look through this very collection and my breath is taken away at how beautiful some of these gowns are, they really make a statement, and are filled with fantasy. Each dress makes a wonderful impression and there is something so powerful and magistic about the garments themselves. It truly was in my eyes the best haute couture show this season. I think Zuhair Murad is an underestimated designer, but in terms of an actual presence in his shows, he is one to watch out for.